History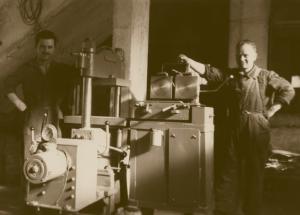 Founded in 1950 by Mario BUSSI, father of the current CEO, the BUSSI Company began life in a small workshop, repairing split moulds for the production of 20x20 cement tiles.
Towards the mid-1950s, the granito tile gradually replaced the cement tile. The company therefore adapted to the manufacture of moulds and liners used on the presses producing these new 25x25 format tiles. Gradually, the workshop expanded, and a steel heat treatment laboratory was installed in 1964. Twin station alternating presses were built in small production runs. This activity continued for ten years and in 1970 the company moved into new more spacious premises. The 1980s saw the advent of 40x40 washed gravel slabs.
The BUSSI Company, which converted into a limited company in 1983, now operates throughout France and in the Maghreb region of North Africa. The new CEO, Gerard BUSSI, is modernising the manufacturing facilities and rationalising the product offer. Trading and sales representation activities were developed in order to provide customers with a more comprehensive offer. This has to a great extent become international. During the 1990s, the workshop was constantly modernised at the rate of a new machine tool every two years, and extensive use is made of CNC machines. A new workshop was added to the previous one, with an assembly area for heavy equipment, a spare parts warehouse and a design office.
In 2004, a "Cast Products" department was established. A year later, the first in a long line of concrete metering hoppers was delivered, followed by the installation of an innovative automated casting line. The signing in 2006 of an exclusive agency agreement for OCEM products in France enabled the company to further expand its offer.
Bussi m.g., building on its experience and its reputation in France, has become a major European player in the supply and maintenance of equipment for the manufacture of paving and environmental concrete products.